Directions
In a small bowl blend honey, grapefruit juice and mustard.
Arrange steaks on foil-lined, shallow broiler pan. Brush steaks lightly with honey mixture. Broil 6 inches from heat source, 6 minutes.
Turn, brush lightly, broil 6 minutes longer, just until juices run clear when meat is pierced with a fork.
Meanwhile, heat remaining honey mixture over low heat in medium saucepan.
Stir grapefruit sections just before serving; heat 1 minute. Spoon sauce over steaks.
Most Helpful
As expected gives the turkey a nice hint of citrus. I thickened the sauce with cornflour (USA cornstarch?), otherwise used as written. Added to my cookbook, thanks.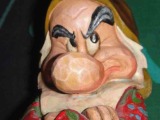 Good recipe .. I made it with orange juice and sections as i didnt have any grapefruit, i think it will be even better with pounded chicken breasts ..