Glazed Carrots With Ginger
MsPia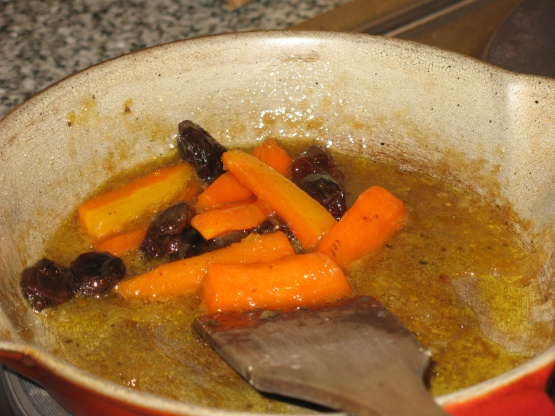 From Family Circle Magazine, March 2008 Edition -- cook up some fun with your kids by Debra Ponzak. This dish has the perfect amount of sweetness for kids and adults.

These carrots were delicious! I did make 2 minor changes, I used honey instead of sugar and I left out the raisins beacause I don't like them. These were very easy, my whole family loved them and I will definantly be making these again. Made as a thank you for Help-a-cameraless-Chef. Thanks!
Melt butter in a large skilloet over medium heat, tilting pan to coat completely.
Add carrots and cook for 1 minute. Add sugar and stir to combine, cook for 1 minute.
Add chicken broth, grated ginger, raisins, salt and pepper and cook for 20 minutes or until carrots are tender when pierced with a fork.
Serve warm. Makes 4 servings.