Garlic Rosemary Pizza Crust
CJAY8248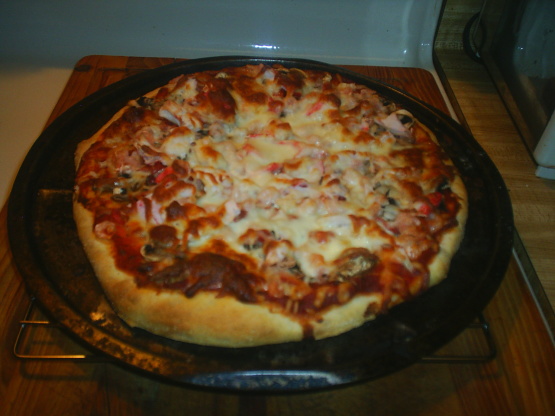 This is a basic pizza crust recipe that I made some adjustments to. Its the perfect pizza crust

This is a great crust. I really liked the oil and rosemary on the first baking. I let it cool 10 minutes, then topped it with sauce, mozzarella, crab, shrimp, mushrooms, onions, and roasted red peppers, and then more cheese. Thanks for sharing. Made for PAC Fall 2011.
Combine yeast with warm water, let sit about 10 mins until yeast has completely dissolved.
Meanwhile, in the bowl of a mixer fitted with a dough hook, combine flour, sugar, salt, rosemary and garlic.
When yeast is dissolved, on low speed, slowly add yeast and oil to dry ingredients.
Work on low speed until the dough forms a ball and pulls away from the bowl.
Turn mixer to med speed and knead dough for 10 mins.
Cover dough with damp towel, let sit until dough rises (about 1 hr).
When dough has risen, punch down dough once then transfer to floured surface. Knead by hand 5-6 times then cut in half.
Roll one half of dough out to 1/8 inch thickness then transfer to greased pizza pan.
Brush dough with oil (i prefer to use butter with a bit of garlic and rosemary, to taste instead of the oil).
Bake at 425 degrees for 10 minutes.
Allow to cool slightly then top with your favorite toppings.
Bake at 425 for 20 more minutes.