Garlic, Herb, Orzo and Rice Pliaf
diner524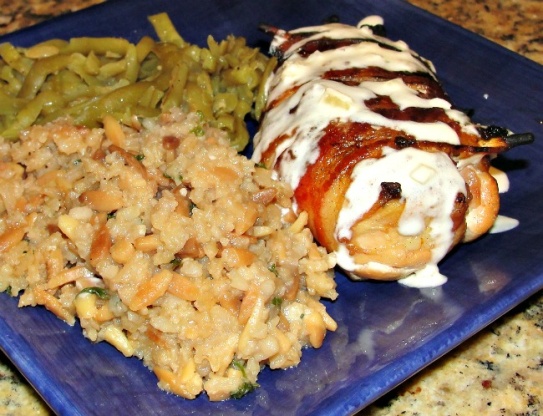 Garlic and fresh herbs flavor this orzo/rice combination pilaf. Vegetable broth may be used for chicken broth.

I knew this would be good, but it was even better than expected. I served this as part of a Greek buffet meal. I doubled the recipe and even so, none left over. I will make this again next week, it's that good, with a baked chicken. Thanks for the recipe.
In a large nonstick skillet heat oil over medium-high. Add garlic and cook for 1 minute, being careful not to burn.
Add orzo and rice; cook 4-6 minutes longer or until lightly browned.
Stir in broth and water.
Bring to a boil. Reduce heat; cover and simmer for 15-20 minutes, until rice is tender and liquid is absorbed. (Add more water as needed if rice and pasta are not done before liquid is absorbed).
Stir in the onions, basil, parsley and salt.
Serve. Sprinkle some grated Parmesan on top if desired.