Garlic Grilled Teriyaki Chicken with Vegetables
Nimz1466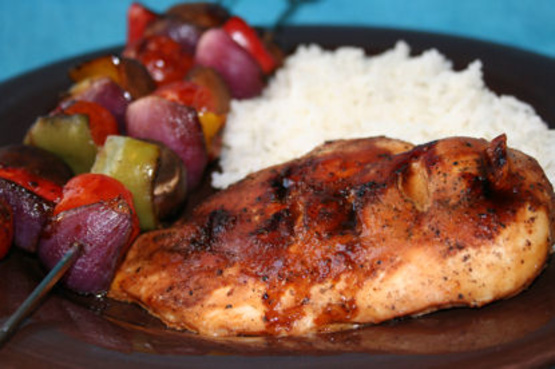 This is hands-down one of my absolute favorite dishes! You can use a different marinade or dressing if you like, but I love the teriyaki. Also, you can add pineapple chunks, grape tomatoes...the possibilities are endless. If you love garlic as much as I do, you will LOVE cutting into your chicken and getting a great burst of garlic flavor!!! Don't worry about it being overpowering, as the garlic mellows as it cooks. I like to serve this with a rice side dish. YUMMY!!! Cook time will vary depending on your grill.

I can't believe this recipe hasn't been reviewed yet. It is wonderful. The flavors are perfect. I've done my steaks like this but just haven't tought about putting slices of garlic in the chicken. Awesome. I used red and yellow peppers and some cherry tomatoes and mushrooms and of course red onions. I put the vegetables on when I did my chicken and cooked over medium heat for 20 minutes, turning and basting every 5 minutes. Wonderful and juicy. Thanks for sharing and I'll be making this again.
1

small zucchini, cut into bite-size pieces

1

large green pepper, cut into chunks

2

small onions, quartered,each quarter cut in half to make eighths

226.79

g fresh mushrooms, cut in half

10

clove garlic (approximate)

59.14-118.29

ml teriyaki marinade (I like Lawry's)
salt and pepper

5-6

bbq skewers
Place cut vegetables onto skewers in random order (you may use more or less of any particular veggie; I LOVE the onions!) Brush evenly with teriyaki marinade; sprinkle with salt, pepper and garlic powder and set aside.
Make about 5 slits in each chicken breast and stuff a clove of garlic inside each slit (large cloves cut in half lengthwise).
Brush chicken with teriyaki marinade and sprinkle both sides with salt, pepper, and garlic powder.
Place vegetables and chicken on foil-covered grill at medium heat; turn every few minutes.
When veggies are cooked through and a little blackened, remove from grill and brush with additional marinade.
When chicken is cooked through and no longer pink, remove from grill and brush with additional marinade.