ImPat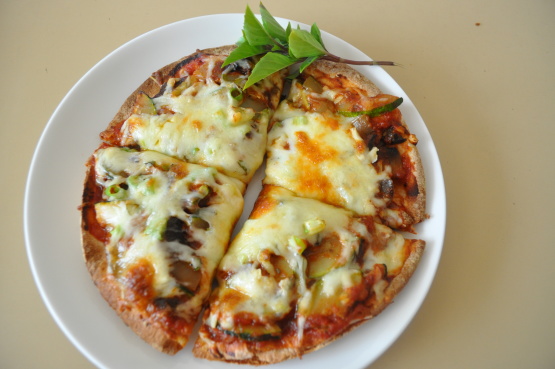 Found this recipe, when looking for something to do with pita bread. This is a low-fat easy lunch for one, and pretty tasty too. I really like pita bread pizzas. From Fabulous Fat-Free Cooking.

Top Review by ImPat
I doubled the recipe to make one each for the DM and I and anything that has heaps of vegies (I used more zucchini and mushrooms than was called for) and she is declaring yummy has got to be 5 stars. Thank you TheGrumpyChef, made for Healthy Choices.
Preheat oven to 425 degrees F.
Place the mushrooms and zucchini in a large no-stick skillet, and coat with no-stick spray.
Cover and cook over med-high heat for 2 to 3 minutes, or until the mushrooms start to release their juice.
Remove the cover and cook, stirring occasionally, for 1-2 minutes, or until the mushrooms and zucchini are golden.
Stir in the garlic powder and 2 tbsp tomato sauce. Set aside.
Place the pita bread on a baking sheet. Bake for 1 minute to crisp.
Remove from the oven and spread remaining tomato sauce.
Spoon on mushroom mixture.
Sprinkle the scallions, basil, oregano, olives, mozzarella, and Parmesan.
Bake for 8-10 minutes, or until cheese is melted and golden.