Full of Flavor Cheesy Corn Chowder
SReiff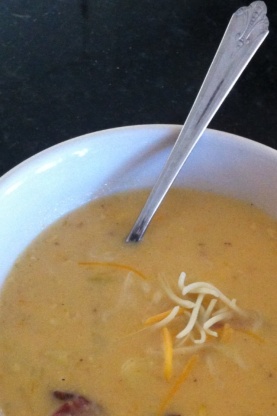 Comfort food? You got it! The secret to this recipe is the evaporated milk! This is several recipes combined to make one yummy soup!! I use my own home-grown and frozen corn (about 2 1/2 c.) and cream only about half of it...but, the frozen creamed corn from your grocer's freezer or canned creamed corn are great too! Sometimes I use a little seasoning salt instead of just salt to add a bit more flavor. Enjoy!
In 3-quart saucepan melt butter.
Add chopped onion and sauté until onion is clear, stirring occasionally.
Add potatoes, water.
Cover, bring to boil, lower heat and cook until tender about 10-20 minutes.
Add corn, half and half, evaporated milk, ham flavoring packets, cheddar cheese, crumbled bacon, Old Bay seasoning, salt and pepper.
Heat, stirring frequently until chowder bubbles slightly.
If desired, garnish bowls of chowder with chopped parsley.