Fudge Pudding Cake for the Slow-Cooker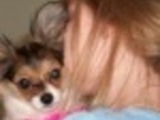 This recipe is from the Wheat Foods Council. Fudge pudding cake was the first thing I cooked as a new wife 30 years ago. Its a dark fudgy chocolate cake with thick fudgy sauce that bakes right in the pan, served warm with icecream or whipped cream. Heaven in a crockpot is the only way to describe this cake.
Directions
Note: Crock pot times vary greatly. The cooking time is correct for my crock pot but may not be correct for yours. Watch cake closely the first time you use the recipe to get the right cooking length for your your particular crock pot. This recipe was written for a 4 quart crockpot. If different size is used, that will also impact the cooking time.
Spray the crock-pot with baking spray.
Mix 1 cup brown sugar, flour, 3 tablespoons cocoa, baking powder and salt in a mixing bowl. Stir in milk, margarine and vanilla. Spoon batter into bottom of crock pot (dough is very thick).
In another bowl, mix together 3/4 cup brown sugar and 1/4 cup cocoa. Sprinkle evenly over batter. Do not stir.
Pour boiling water over the top. Do not stir. Cover and cook on high for 2 to 2-1/2 hours or until the cake pulls away from the sides of the crock-pot (pudding will be bubbling through).
Serve immediately with ice cream or whipped topping if desired. Or let set for 10 minutes and then invert onto a plate. Spoon pudding left in the pot over the cake.
Most Helpful
This cake turns out perfectly every time. The sauce (pudding) gets clumpy if you dont sift your ingredients. My crock pot finishes this cake in an hour and 15 min. Goes great with ice cream!
I've only just eaten this but I wanted to jump on and rate it before I forgot. I am so glad I made this pudding! When I cut into and lifted the pudding with the serving spoon and saw the beautiful rich fudgy sauce flow out from underneath I got excited. It's the perfect chocolate pudding and you don't get any dryness around the top or edges like can sometimes happen with a pudding baked in the oven. This will be how I make my puddings from now on :)

This was really tasty! I used 2 tablespoons of Italian drinking chocolate as I was out of cocoa. We had it with hand whipped cream, but custard would alos be good!