CoffeeB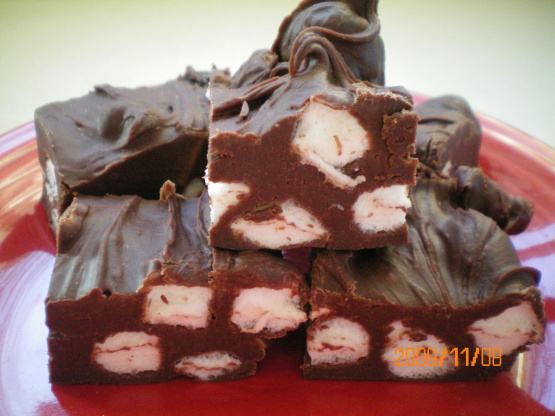 My adopted recipe for fudge has reviews submitted that state the fudge did not set up well. I incorporated my recipe using sweetened condensed with this recipe and the fudge was firm and very tasty.

*UPDATE* Taste is good, but the consistency is still really soft, and it was chilled outside for two hours and overnight in the fridge before cutting. Not sure why is isn't more firm, but it still tastes good.

Just put this together, and I agree with the reviews, patience makes a big difference. I melted the chips, removed from heat and then added the marshmallows and didn't think it was looking right at all. Luckily I got distracted by an email cuz when I turned back to the pot the mixture folded up nice and smooth. Guess the marshmallows needed a few moments to be warmed through by the chocolate. Will add stars later when we taste . . .
Melt chocolate chips and margarine with sweetened condensed milk over low heat. Remove pan from heat and fold in mini marshmallows and vanilla.
When mixture is well incorporated spread evenly into wax paper lined 8 or 9 inch square pan.
Chill 2 hours or until firm.
When firm turn fudge onto cutting board and remove wax paper. Cut into squares and store leftovers in covered container in refrigerator.