Nif_H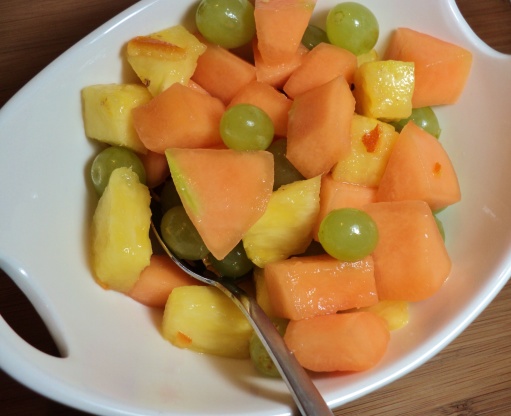 Here's a refreshing fruit salad that is great in the Spring and Summer when fresh blueberries and strawberries are plentiful. It is great as a salad side dish, as a dessert, or as a topping on pound cake or ice cream!

I have been taking this fruit salad to work with me for the past few days for an afternoon snack. I did scale the recipe down quite a bit for just DH and I. It is quite easily done if you keep all the fruit separate and then in the morning toss in a bowl with a splash of the "dressing" and go. Perfect pick me up with some almonds. Thanks for posting! Oh and yes, today I am using both blueberries AND strawberries, what can I say I am a rebel! Thanks for posting! Made for our VIP chef for the Veg*n Swao June 2010!
Cut cantaloupe and pineapple into large bite-size pieces; place the pieces, along with the grapes, and any other fruits desired, and place in a large bowl.
Combine the orange marmalade, lemon juice, and orange juice in a tightly covered small container; shake to mix well.
Pour marmalade mixture over the fruit.
Let set overnight to blend flavors.
Just before serving, mix in EITHER blueberries OR strawberries and any other fruit desired.
Preparation time varies depending on the amount of different types of fruit put inches.