Ashley Cuoco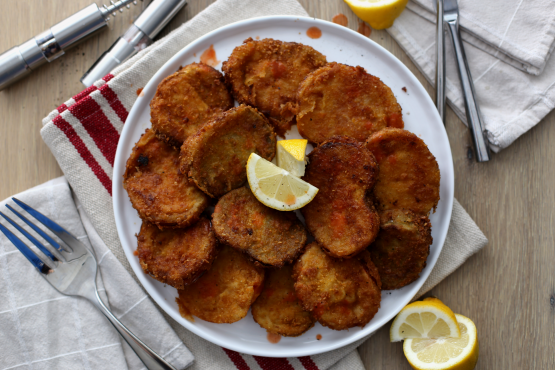 this is the first year i planted a garden here in pa. it was essentially herbs, but i threw in 2 tomato plants and one pepper plant, now this late in the season i am left with many green tomatoes. this recipe is courtesy of tyler florence, and worked perfectly.

Top Review by lolsuz
GREAT recipe, thanks for posting! (I'd like to add that if you don't already keep powdered buttermilk in stock, you darned well should! It opens the doors for tons of wonderful recipes- like this one- without leaving you stuck with half a carton of buttermilk in the fridge. And it's even good enough to use to make buttermilk pie.) We had this last night, served with fresh marinara sauce (recipe 136292) and a sprinkling of feta cheese. It was EXCELLENT. I had friends over for drinks to celebrate Repeal Day and we couldn't stop going back for seconds until every last tomato slice was gone. I'm thinking about making it an annual tradition... thanks again!
In a large bowl, combine the cornmeal, flour, garlic powder, and cayenne together.
Pour the buttermilk into a separate bowl and season with salt and pepper.
Dip the tomatoes in the buttermilk and then dredge them in the cornmeal mixture, coating both sides well.
Place a large cast iron skillet over medium heat and coat with the oil.
When the oil is hot, pan-fry the tomatoes (in batches if necessary) until golden brown and crispy on both sides, about 3 to 4 minutes on each side.
Carefully remove the tomatoes and drain on paper towels.
Serve with hot pepper sauce and lemon.