Swirling F.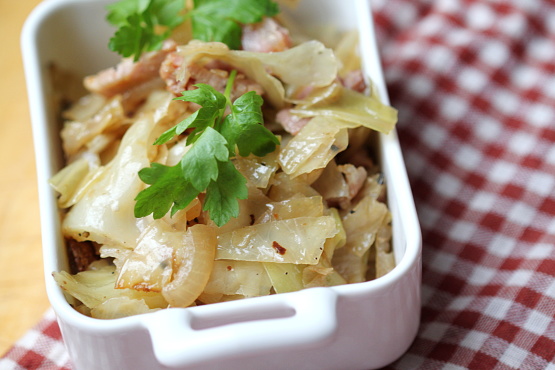 Nice flavor and easy to prepare. Good side dish for any pork entree. If you prefer it more mild, just add a dash of red pepper flakes instead of the 1/4 tsp. indicated.

Top Review by carlaj
I love cabbage. I did remove more than half of the bacon grease. I added the cabbage into the same pan and stirred to coat it, then added about a half a can of beer for the cooking/braising liquid and added the chopped bacon at the end of the cooking time and my motto is the hotter the better so I aded more pepper flakes. Topped it off with an alka seltzer...I can`t believe I ate the whole thing!!
Fry bacon until crisp and well browned.
Drain and set aside.
Add chopped onion to the bacon grease and stir until translucent.
Add cabbage, pepper flakes, salt and pepper, stirring until all cabbage is coated.
Add the crumbled bacon bits and cover.
Cook over low heat until cabbage is tender.