Parsley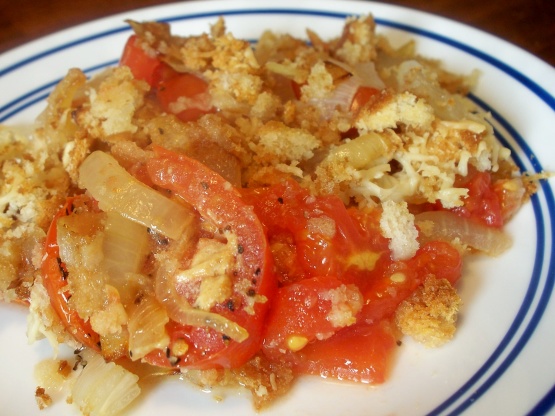 Good recipe to use up your end-of-the-summer glut of tomatoes. The first time I made this I was skeptical about the amount of bread crumbs, but it worked - the bread crumbs become almost like a sauce from soaking up the tomato juices. I found this recipe in Too Many Tomatoes by Burrows and Myers.

Definitely a great way to use up fresh tomatoes! I made a few minor changes-- added a minced clove of garlic to the onions as they sauteed, and I didn't layer the ingredients. I just mixed everything together (except the parmesan) and put it in a 13X9 casserole dish, sprinkling the cheese on top. It was yummy, but a little bit greasy so the next time I make it I'm going to cut the butter with the breadcrumbs in half, to about 3 tablespoons. I cooked some pasta to go with this and it made a delicious meatless meal!
Mix well the tomatoes, salt, pepper, sugar and dry mustard.
Saute the onions in the 2 T of butter.
Mix the bread crumbs with the melted butter.
In a buttered 1 1/2-quart casserole, layer the tomatoes, then onions, then crumbs.
Bake at 350° for 25 minutes.
Sprinkle with cheese, bake 5 minutes more.