Mr.Rich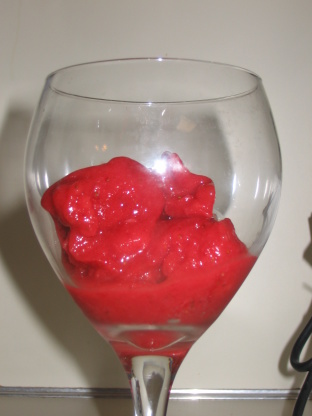 Easy to create recipe for your family. Recipe is courtesy of Cooking Thin with Chef Kathleen by Kathleen Daelemans. A good dessert substitute for ice cream for your kids. Usually, I cut the strawberries ahead of time and place in freezer for couple of hours.

This was excellent! I added a splash of milk to make it creamy.
Rinse, then cut blemishes and tops off strawberries.
Cut strawberries into quarters depending on size.
Place cut strawberries into freezer bag and place into freezer.
Remove frozen fruit from freezer and place into bowl of food processer.
Add sugar to bowl of food processer.
Puree fruit by pulsing processor on and off while gradually adding apple juice just until sorbet becomes will blended, smooth, and creamy.
Serve immediately.