Fresh Fig and Ginger Chutney from the Auberge
Rita1652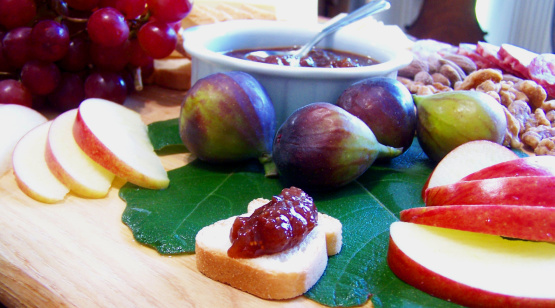 When my two fig trees are in season, I struggle to cope with the amount of fruit they produce..........a rather nice problem I have to admit! We eat figs fresh with nearly every meal; I make jams, conserves and also bottle the fruit in liquor. However, this is one of my favourite ways of using some of my fresh figs, and this chutney is just amazing when served with the cheese board or with cold meats and charcuterie. Ginger has a natural affinity with fresh figs and gives this chutney an extra layer of flavour. This chutney does not keep as long as some other fruit chutneys, but that never seems to be a problem, as we eat most of it quite quickly and I always have numerous requests from family and friends for a pot or two when I make it! This intense chutney really captures the fruit's rich sweetness perfectly and is capable of turning a simple toasted sandwich into something rather special.......it's great with all types of cheese.

Top Review by Tannic
What good fortune I had coming home from an unusually long work day, looking for a condiment/vegetable for my left over pork chop and finding an unopened jar of this in the fridge (with the recipe number as part of the label...). I have no idea who made it for us, but the rest of the jar is unlikely to last the 2 weeks dw is away.
The jam was rich, complex, and more fruity than sweet. The figs held onto a nice texture. I wanted more heat and I thought the ginger flavor was a little too mild, but I like spicier foods.
Combine all the ingredients in a large saucepan. Bring to the boil, reduce the heat, and simmer, covered, for 30 minutes.
Uncover the pan and continue simmering for about an hour and a half, stirring often, until the chutney is reduced, thick and richly flavoured. If the chutney becomes too dry, add a splash of water. Taste and correct the seasoning, adding brown sugar, vinegar, or chilli flakes as needed. (Sometimes, depending on the water in the figs, this chutney can take over 2 hours to reduce.).
Spoon into sterilised jars and seal. The chutney will keep for up to 8 or 9 months, unopened, in a cool, dark place. Once opened, refrigerate and use within 4 weeks.