Demandy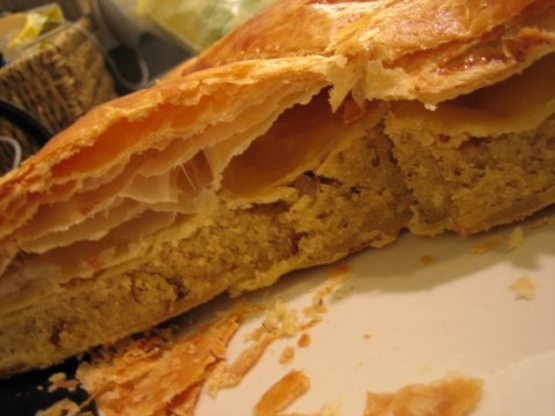 A lovely dessert tart! I used Pepperidge Farm for the Puffed Pastry tart, another two recipes for the filling and Dancer's Chocolate Almond Sauce #5331 for the sauce on top. It made for a fantastic combination!

This was awesome, guests asked to take some home. I used 1/2 tsp almond extract instead of Amaretto, which turned out to be a good amount. I ended up cooking on a cookie sheet since I didn't have a tart pan and it still worked fine, I just trimmed the sheets to be somewhat circular. Next time I'll try putting the chocolate sauce on top.
Preheat oven to 375°F.
Mix 1 egg with water, set aside.
Place almonds and sugar in food processor.
Cover and pulse on and off until finely ground, about 1 minute.
Add 1 egg and continue to pulse until smooth paste forms.
Add butter, a little bit at a time, pulsing after each addition.
Scrape down sides of bowl.
Add remaining egg and pulse until smooth.
Add flour and Amaretto and pulse until just blended.
Unfold 1 pastry sheet.
Place sheet in 9" tart pan.
Top with almond mixture.
Unfold remaining pastry sheet and place on top.
Trim pastry sheet to fit.
Crimp edges and cut decorative slits in top.
Brush with egg mixture.
Bake 45 minutes or until golden brown.
Cool in pan on wire rack.
Serve with Chocolate Almond Sauce, if desired.*.
*If using, divide amount of almonds in half and save one half to garnish the slices of the tart.