Pumpkie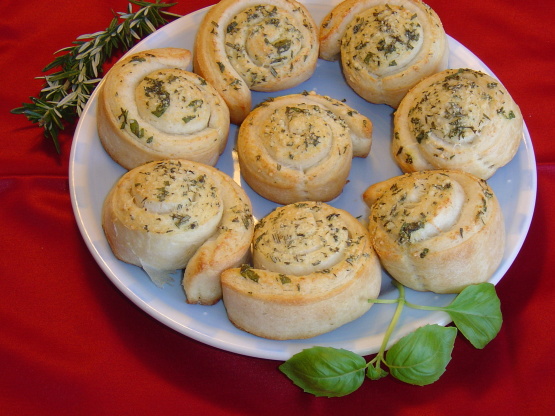 I write down recipes or cut them out of magazines, but do not remember where I got them. Here is another one, simple but good!!

Top Review by Bobbie
Quick and easy. I bought the can of Pillsbury breadsticks and the dough was really hard to "break apart" at the perforations -- and I noticed the pieces weren't all the same size either. I'm going to try another variety next time and am thinking of the crossiants -- I think you could drizzle the olive oil on them and sprinkle the topping on before rolling them up -- or even roll them up and then apply the olive oil and topping. OR maybe buying the tube of french bread and cutting the dough into pieces, flattening them and proceeding with the recipe. I loved the convenience of having "focaccia" in such a quick and convenient manner.
Preheat oven to 375 degrees.
Lightly grease a cookie sheet.
In a small bowl, combine parmesan cheese, rosemary, basil and onion.
Remove dough from can.
Separate into 8 coils, DO NOT UNROLL BREADSTICKS.
Place coils onto cookie sheet, shaping them into a 5 inch"swirled" round shape.
Drizzle each round with olive oil.
Sprinkle each round with the cheese mixture.
Bake for 8-15 minutes or until golden brown.