katew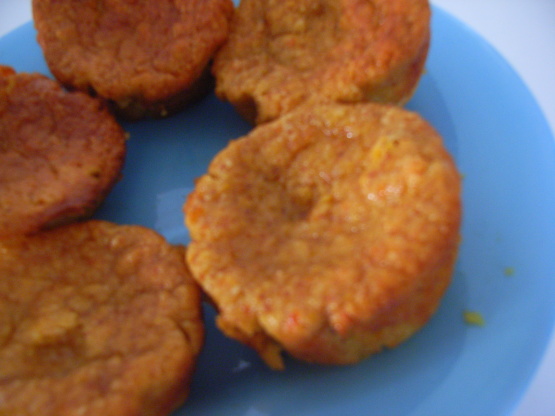 I found this on the A.B.C. website whilst looking for Mandarin recipes ( I had a few to use up) So with that said I have not tried this, but know, thanks to ** Jubes** a regular on Zaar that there are a lot of people on zaar looking for flourless recipes! So I thought I would post it for anyone interested.

Top Review by katew
This recipe makes a great cake - moist and delicious. I used 1 orange and 2 small mandarins and boiled them on the stove top for 25 minutes. I also ground up my own almonds and left the skin on them. This makes mine a more rustic version, I suppose. I made one big and 6 small muffin size cakes and they are so yummy !! Thanks Tis !
Cut mandarins in half lenghtways (skin on). Remove pips and place cut side up in a microwave dish and add 3/4 cup water. Cover and microwave on high 15 minutes (or boil 25 minutes) & drain.
In a food processor blend sugar and mandarins to a paste and leave to cool.
Add eggs and mix, then add almond meal and baking powder and mix well. Line a shallow 20 cm cake tin with baking paper and pour in the batter, smooth the top.
Bake at 180c for about 50 minutes, until firm in the centre. Cool in the tin before turning out.
Serve warm or cool, with thickened cream and additional mandarine segments.for decoration.