michEgan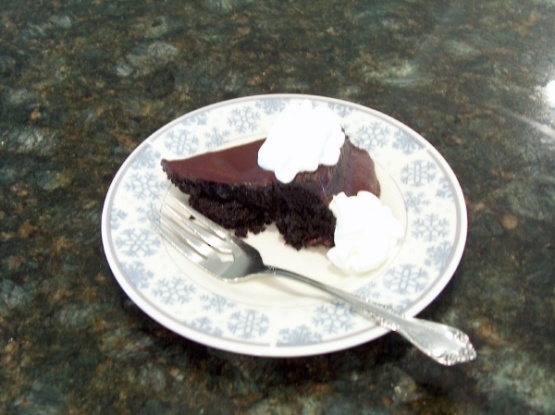 The ultimate chocolate gratification! Served with chilled champagne, this is the perfect finish to your meal. My husband's very favorite dessert. Cook time includes cooling time

WOW, What an intense chocolate flavor with this recipe! This is excellent for those hard core chocolate lover, who enjoy a very intense rich chocolate taste. I halved the recipe for only one cake. Also, 1 1/2 cups of sugar. I did add 2 teaspoons of vanilla, and also increased the sugar too. This is a keeper for sure. My Dad who just loves a bittersweet dark chocolate, I know, will go goo-goo for this. Because I did not have any fruit, I just used whipped cream. As soon as my batteries recharge I will be posting a picture of it. It may be darker then most of yours, because I use a black cocoa. 1/2 of the regular cocoa and 1/2 of black cocoa.
2

cups sugar, divided

2

cups unsweetened cocoa powder, sifted

3

tablespoons baking powder

1

teaspoon salt

6

eggs, separated

1

cup whipping cream

8

ounces chopped baking chocolate
1⁄2 cup of your choice slightly thinned raspberry jam or 1⁄2 cup strawberry jam
whipped cream (to garnish)
fresh berries (to garnish)
Sift cocoa, sugar, baking powder,& salt together in large bowl and set aside.
In smaller bowl, whip yolks with remaining 1/2 cup sugar until pale yellow& thick;set aside.
In third bowl, whip egg whites to stiff peaks; set aside.
Heat oven to 350¹.
Gently fold yolks into dry mixture, adding water a tablespoon at a time if necessary.
Then fold whites into chocolate mixture very gently.
Spread batter into 2 (8") buttered cake pans.
Bake about 45 minutes or until toothpick in center comes out clean.
Remove and cool.
Remove cake from pans.
Heat cream in a small saucepan until hot.
Remove from heat and add chocolate, stirring until smooth and shiny.
Be sure to keep ganache warm& fluid.
Spread jam on top of one layer and place other cake on top.
Pour ganache over cake evenly.
Refrigerate until set (about 30 min).
To serve; cut into wedges and garnish with whipped cream& fresh berries.
For a slightly less decadent version; leave out the whipped cream but use plenty of berries.
Ha-ha.