Fleming's Steakhouse Chipotle Cheddar Macaroni and Cheese
gailanng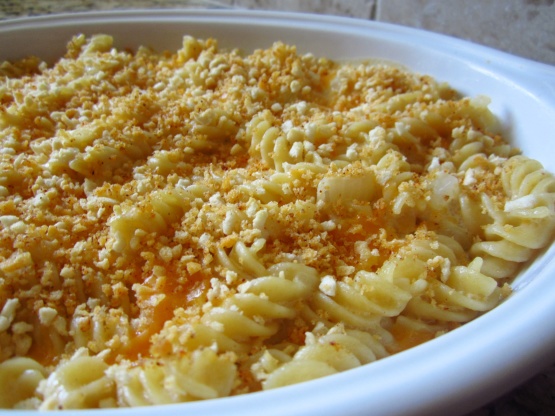 Is there anything at Fleming's Steakhouse that isn't just wonderful? If it wasn't so expensive I'd eat there more often but when you can make it at home for a fraction of the cost, why not? This was posted in our local newspaper and its directly from the executive chef Russell Skall.

This is extremely close to Flemmings and the best mac&cheese recipe I've ever made. It is always a HUGE hit and I get asked to make it again and again. I have cheated and used liquid smoke, to taste, when I haven't been able to find smoked cheddar. I have also found it too salty. I know add 1/2 the salt and taste the cheese sauce at the end and adjust accordingly. You can add salt just before pouring sauce over macaroni. This recipe requires several steps, but it is worth it!
Preheat oven to 350 degrees F. In a large pot, bring 1 gallon of water to boil. Add 2 teaspoons salt and pasta and cook for 8 - 9 minutes
Drain pasta and cool under cold running water. Pasta should be slightly firm. Toss drained pasta in oil and reserve.
Melt butter in a large sauce pot over medium heat. Add onions and saute for 4 - 5 minute.
Add flour and cook 1 - 2 minute but do not brown.
Add cream, half and half, kosher salt and white pepper.
Bring pot to a simmer. Cook until sauce is thick, about 5 - 6 minute Blend cheese into sauce and add cooked pasta.
Pour pasta and sauce into a 9 x 12" baking dish. Reserve.
In a saute pan over medium-high heat, add oil and chipotle chili powder. Heat for 30 seconds, until pan starts to smoke. Remove from stove and stir in bread crumbs.
Sprinkle bread crumbs over the pasta and bake for 15 - 20 minute until golden. Cool slightly before serving.