Flax N' Fiber Morning Glory Muffins
Pam-I-Am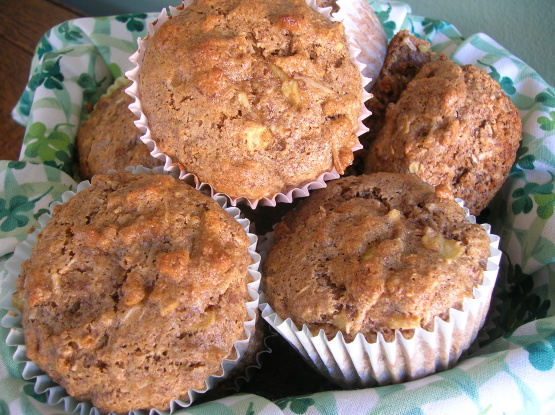 This is a recipe I found using Fiber One bran cereal. I'm trying to get more whole grains and fiber in my family and this one is a winner! Each muffin has about 5 grams of fiber and because of the cereal being fortified with vitamins, and the milk they contain calcim, folic acid, iron and Vitamin A.

I just made these yesterday to bring over to my mom, because we love these muffins....I was a little worried with the batter...it seemed it was going to be too dry...but once the eggs were in there the concern was gone...these were most delicious! I'm making a batch fo myself tonight...thanks for the recipie!
Heat oven to 375°F Place paper cup liners in muffin tin (makes 12 muffins)- spray muffin liners with oil spray.
Measure one cup of Fiber One bran cereal into a bowl. Pour 2/3 cup of milk on it and let it sit for 5 minutes to soak.
Stir in remaining ingredients. With a hand beater or mixer, beat ingredients together until batter is moist and thick.
Using a large spoon, place batter into paper cups at 3/4 full.
Place in oven and bake for 20-22 minutes or until toothpick inserted comes out clean.
Cool on a rack.