Ms. B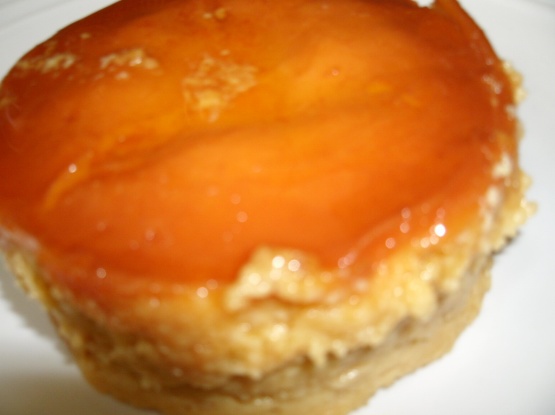 Cuban custard. Got recipe from my grandmother.

This recipe was AMAZING!! I have tried many flan recipes and they were not nearly as delicious as this one. Although the first step of caramelizing the sugar had to be redone because you dont need to add water to it. I also made sure to let the cream cheese get to room temperature before whipping. My entire family loved it! Thanks for sharing :)
In small pot mix 1/2 cup sugar and enough water to moisten the sugar.
Cook sugar water at low heat until caramelized.
Swirl around pot until all the sides are covered.
Mix the rest of the ingredients well and pour in it pot with the caramelized sugar, after the sugar has cooled and hardened.
Cover pot with foil tightly.
Place pot with ingredients in larger pot and fill larger pot with water 2 inches from the top of the smaller pot.
Cook at 350 for about 90 minutes.