Bayhill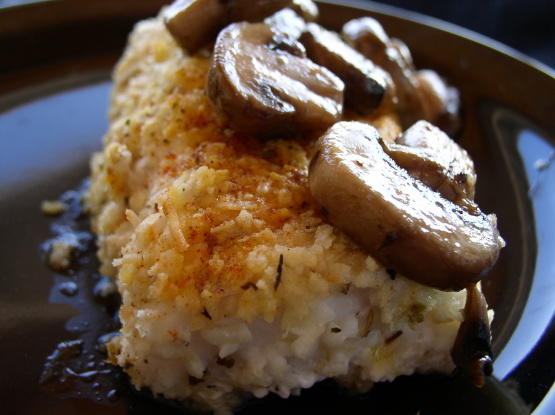 The original recipe called for scrod, but that isn't readily available fresh where I live. I've found that amberjack, redfish, or red snapper work nicely. Tilapia will work too, but try and find thicker pieces.
Wonderful fish recipe! We loved the flavor that the marsala wine gave the fish. The sauteed mushrooms were also a nice addition. I used some thick cod fillets and they worked really well with this recipe. Thank you for sharing! **Made for Culinary Quest - Suitcase Gourmets**
Saute mushrooms and garlic in 1 tbsp melted butter and olive oil in a large skillet over medium-high heat, stirring constantly, until tender. Set aside, and keep warm.
Combine the cracker crumbs, Parmesan cheese, salt, basil, oregano, and garlic powder in a medium bowl; dredge the fillets in the crumb mixture.
Pour 3 tbsp melted butter into an 11 x 7 x 1 1/2 inch baking dish. Arrange fillets over butter, turning to coat both sides; sprinkle with paprika. Bake, uncovered at 350 degrees for 15 minutes.
Drizzle the Marsala evenly over the fillets, and bake 5 minutes or until the fish flakes easily when tested with a fork. Spoon the reserved mushroom mixture over the fillets and serve immediately. (I've added the mushrooms before drizzling the Marsala, and love the extra taste -- but you sacrifice the crispness of the cracker crumb mixture.).