Pappadeaux Snapper Ponchartrain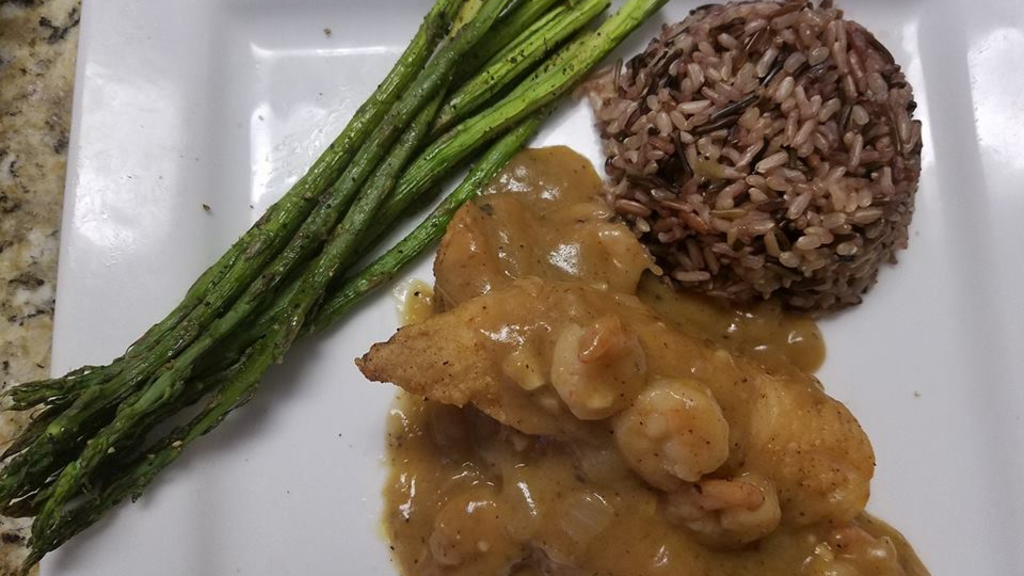 Ready In:

1hr

Ingredients:

20
directions
Combine reserved shrimp shells, chopped vegetables and water in a large stockpot; simmer over medium heat until liquid is reduced to 3 cups, about 30 minutes; strain and set aside.
Make a roux in a heavy saucepan by melting 4 tablespoons butter until it begins to turn brown.
Slowly whisk in 4 tablespoons flour until mixture thickens to a paste; cook until it turns a light, golden brown.
Remove from heat and set aside.
Melt 1 tablespoon butter in another saucepan.
Add garlic and onion and saute over medium heat 2 minutes.
Add crushed bouillon cube, pepper sauce and shrimp stock.
Stir and let simmer.
While the stock is simmering, melt 1 stick plus 1 1/3 tablespoons butter in a separate saucepan, stirring, until it turns golden brown; set aside.
Add roux to stock mixture and stir to incorporate, then simmer 3 to 5 minutes.
Add brown butter to stock and whisk until incorporated and emulsified.
Whisk in Madeira until incorporated.
Set sauce aside and keep warm while the fish fillets are cooking.
Mix salt, paprika, garlic powder and cayenne into remaining 2 cups flour.
Dip fish fillets in lemon juice, then into seasoned flour to coat.
Melt 1 tablespoon butter in large heated skillet over medium heat.
Place fillets in skillet and cook until golden brown and completely cooked, about 4 minutes per side.
While the fish is cooking, saute the peeled shrimp in 1 tablespoon butter just until they turn pink (do not overcook).
Add shrimp and crab to Madeira sauce.
Spoon 4 shrimp and a couple ounces of heated sauce over fillets and serve.
Join The Conversation
this was fantastic, Made this with fresh caught Snapper. I had a hard time getting the roux dark enough (probably due to my impatience) however it was still excellent and yes you will use a lot of pans. Paired it with roasted green beans and home made mash potatoes and threw the sauce on the potatoes as well. Will make again for sure!

Over 20 years ago my Uncle took me to Pappadeaux's and I ordered the this dish for the first time. It. Was. Heaven. Seriously the best fish dish I have ever had. I have been singing its praises to my husband for years. But every time he goes to Texas with me something happens and we can't make it to the restaurant. <br/><br/>So yesterday I'm in the fish market and it occurs to me... wonder if anyone has posted the recipe for this dish? I was very excited to see that it was posted, and I started to throw ingredients to cart. <br/><br/>I get back home and the first thing I did is start making the broth. This is where I deviated from the recipe. I have made the mistake of using weak seafood broths in complicated dishes before. Complete waste of effort. So while I used all the shrimp shells as directed, I had bought head on shrimp, and I added the heads AND I had decided to use whole dungeness crab meat (it's crab season) for the sauce, so I threw in all the crab shells and guts including the tomalley. I also increased the onion to 1/2 an onion for the broth. The resulting broth was rich, and decadent. Perfect. <br/><br/>That was my only deviation from the recipe. Otherwise we followed it exactly, measuring everything (I rarely do this). I put it in the fridge overnight. <br/><br/>Then we made the rest of the dish tonight. By the time we dirtied the 4th pan, my husband was like "there is nothing that justifies this much work." and "we're never making this again." <br/><br/>Then he tasted it. <br/><br/>I still don't know if I can talk him into making it again. Now that we've made it once, I can make it again alone. He did say that "flying to Texas and going to the restaurant might be easier." But he really enjoyed it and admitted that it was a "10" as far as fish dishes go. <br/><br/>It is an exact match to the restaurant's recipe. And it IS worth the effort. Though I would make sure that you have hours for to spend in the kitchen before you decide to commit.

Wow--amazing! This is my favorite dish at Pappadeaux and I have been looking for this recipe for years! I made this tonight with dirty rice and my husband and I loved it. I used red snapper and it was soooo delicious. It took about 1 3/4 hours and several pans but worth every bit of effort. It is just as delicious as I remember. Thank you so much for sharing!

Oh my goodness! The reviews were true. This is truly the real thing! This is one of my favorite dishes at Pappadeaux and I was amazed I was able to recreate it., Yes!!! I made this along with the Dirty Rice (no livers) recipe on this site and we ate until we could not eat again!!! When I reviewed the recipe it was a little confusing, but when I actually made it everything came together. I used a variety of filets......talapia, catfish, and snapper. This dish is marvelous!!!