Finger Lickin' Oven Barbecue Chicken
ImPat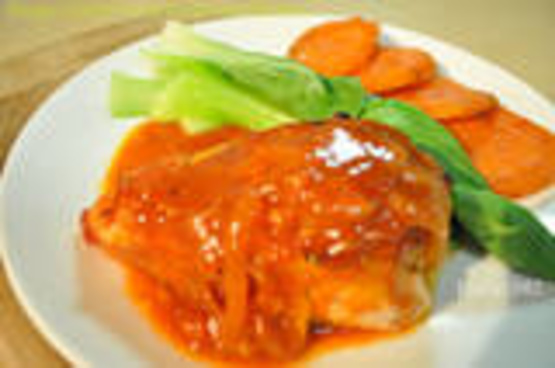 This recipe makes a very flavorful sauce that is perfect on chicken or used to jazz up plain rice. It is great to fix when you want to grill but the weather just won't cooperate! Even people who don't like barbecue love this sauce. I typically like to double it and set some aside for extra dipping

Top Review by katew
Wow - this is just so delicious.I used whole chicken breasts and put everything straight into the baking dish. They were cooked to perfection in 30 minutes and the sauce is fabulous. We don't get buffalo wing sauce here and I have no idea what it tastes like to added some maple flavoured seed mustard to the sauce ingredients - I have had a pre dinner sample but will put this chicken along side a green salad for dinner tonight.
Pour canola oil into a large frying pan and heat over medium heat.
Add chicken pieces and brown well.
Remove chicken and place in a 9x13-inch baking pan.
Preheat oven to 350°F.
Add onion to the frying pan and stir well; scraping up and brown bits from the chicken.
Sauté about 2 minutes.
Meanwhile, in a mixing bowl combine remaining sauce ingredients and stir to mix well.
Pour sauce mixture into frying pan with onion and stir to combine.
Simmer sauce for 15-20 minutes to allow the flavors to blend.
Pour over chicken, then flip pieces so that both sides of the chicken get coated with sauce.
Bake chicken for 30 minutes or until juices run clear.
Note: If you double the sauce so you have enough for extra dipping, make sure you only pour 1/2 over the chicken before baking. The remainder of the sauce can simmer gently while the chicken bakes.