Rita1652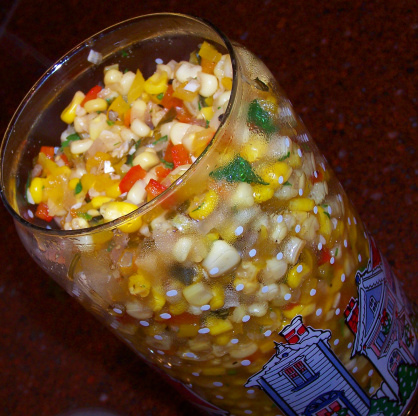 The reason I like this recipe is that it does not make a huge amount. I am the only one in my family who likes corn relish so I don't want a whole lot sitting over the winter (I can only eat so much!) I usually use 5 to 6 ears of fresh corn but frozen corn can be substituted. This looks like a lot of ingredients but it comes together fast. This comes from Topp and Howard's "Small Batch Canning"

I made two corn relishes last week and this was my favorite! Cumin adds a wonderful flavor. Love that the recipe makes a smaller amount. Didn't realize the first time I looked at the recipe that the yellow pepper was a hot pepper, was thinking yellow bell pepper, so I just added a couple of minced jalapenos instead. Thanks for sharing the recipe!
Bring a large pot of water to a boil over high heat.
Add corn, cover and cook for 6 minutes.
Drain and cool until easy to handle.
With a sharp knife cut kernels from cob and measure 4 cups corn into a large stainless steel saucepan.
Add hot pepper, garlic, vinegar, sugar, onion, red pepper, green onions, cumin, salt and black pepper to saucepan.
Bring to a boil over high heat, reduce heat and boil gently, uncovered, for 20 minutes.
Stir in cilantro and cook 2 minutes longer.
Remove from heat.
Remove hot jars from canner and ladle relish into jars to within 1/2 inch of rim.
Process 15 minutes for pint jars.