Boomette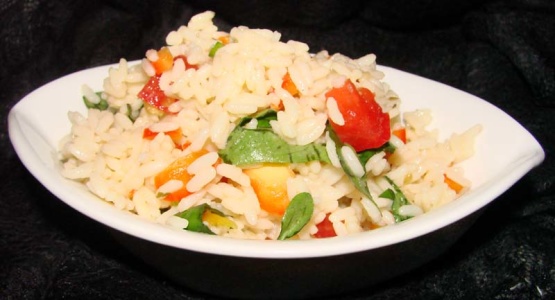 In 30 minutes or less you have not only a wonderful tasting salad but a beautiful salad. I make this for the holidays. Really looks and taste great and everyone loves it.
For the vinaigrette, I used italian dressing. I had only red bell pepper. I used a roma tomato instead of grape tomato. The fresh basil was great in this. DH asked me what was the taste LOL He loved it. And me too. Thanks V. Made for Beverage tag
Rinse the rice under cold running water until the water runs clear. Drain thoroughly.
Place the rice, chicken broth and water in a heavy saucepan with a tight-fitting lid. Bring to a boil over high heat, stirring gently to keep the rice from sticking to the bottom of the pan.
When the water is boiling rapidly, stop stirring, cover the pan with the lid and turn the heat down to low. Let cook, without lifting the lid, for 20 minutes.
Remove from the heat, lift the lid to release the steam, and replace it immediately. Let stand, covered, for 10 minutes and serve.
Meanwhile, crush the garlic with the salt making a rough paste. Add the garlic paste to the vinaigrette and let stand for at least 15 minutes to combine flavors.
Add the vinaigrette to the cooled rice and toss with the vegetables.