Fantastique Jam Jar French Dressing - With a Twist!
French Tart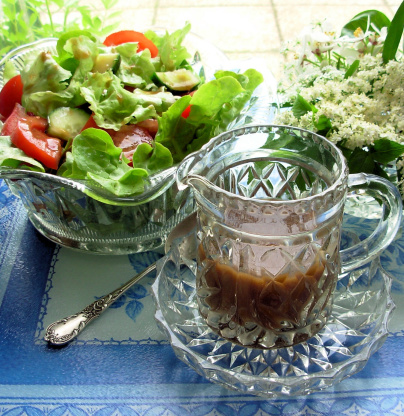 A very easy French Dressing with a few twists. This is a make ahead recipe wth a yield of about 250 mls or 1/4 pint; it keeps for about 7 to 10 days with no problems at all. I have stated dried herbs & seasonings - you can use fresh herbs & seasonings too, but this decreases the keeping time slightly. The oil content in this is considerably lower than most classic French dressings - making it a healthier option, and you know what has gone into it too!

What a blessing this dressing is to me! I had to restrict my diet from salt and sugar (as we all probably should) and this recipe is wonderful. I substituted one small packet of splenda for the sugar/honey, and that's it! Low sodium, sugar but great on taste, thanks FT.
Select a clean bottle preferably with a lip OR, as I often do, a clean jam jar!
Carefully measure all the ingredients into the bottle or the jam jar.
Give it all a good shake - making sure the lid is on securely!
Store in a cool and dark place.
Note: I do store this in the fridge when it is really hot.
It is also great to drizzle over roasted vegetables or to add to potato salad.