Fantastic Yellow Squash Casserole
Parsley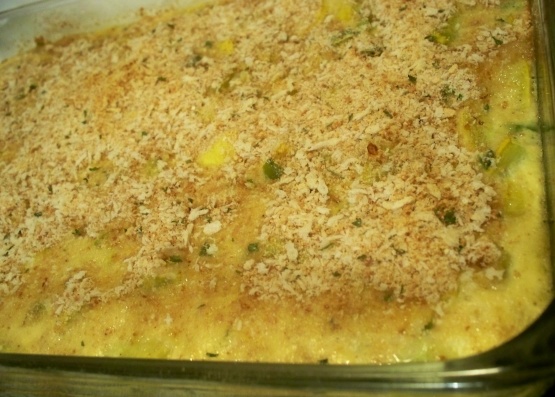 I got this squash casserole recipe from a friend probably 30 years ago. It is always a hit. Hope you like it. Can be made the day before and baked the next day.

Top Review by Suse40
This was really good. I used yellow squash and zucchini (2 each), diced and steamed in the microwave, then dried with paper towels (thanks for that tip). I sauteed regular onion with green pepper, just because I like the flavor of sauteed onions over raw, but that did make an extra pan to clean. I also added a dollop of light sour cream to the eggs because I had it on hand. It made a huge casseroleful for a covered dish dinner and every crumb was eaten. Thanks for the cheeseless casserole recipe!
Wash and dice squash.
Put in saucepan.
Add 2 cups water.
Bring to boil and cook for 10 minutes.
Drain and set aside.
Saute bell pepper and onion in skillert with butter.
Add pepper & onion mixtue, brown sugar, salt and pepper.
Add eggs and milk.
Mix well.
Spray a 2 quart casserole with Pam.
Spoon mixture into casserole.
Bake in 325 degree oven 30 minutes.
Sprinkle breadcrumbs on top.
Bake 10 minutes more or until breadcrumbs brown.