Redsie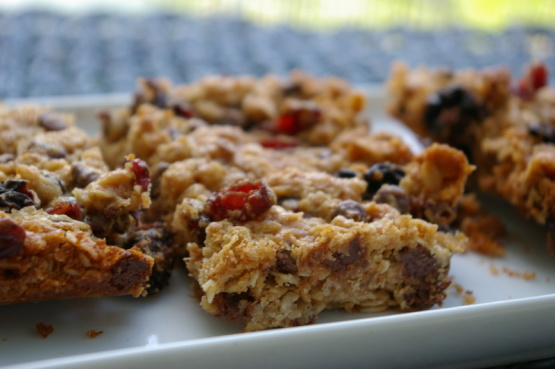 These homemade granola bars are so delicious, and the good thing about these is that you can add whatever you want to them, these are much better than store-bought.

I found that these crumbled quite a bit. I used half the sugar and sunbutter instead of peanut butter (allergies), and honey instead of corn syrup. Not sure if that affected it at all. However, it still tastes great.
Set oven to 350 degrees.
Grease BOTTOM ONLY of a 13 x 9-in baking pan.
In a large bowl, combine the first 5 ingredients.
Stir well.
Stir in the remaining ingredients.
You may add what ever you want, as long as the mixture is sticking together in several large clumps.
Press the mixture into the baking pan, using your fingers.
Bake at 350 degrees for 15-20 mins, or until golden.
Cool completely, and cut into bars.