Fakes (Traditional Greek Lentil Soup)
PaulaG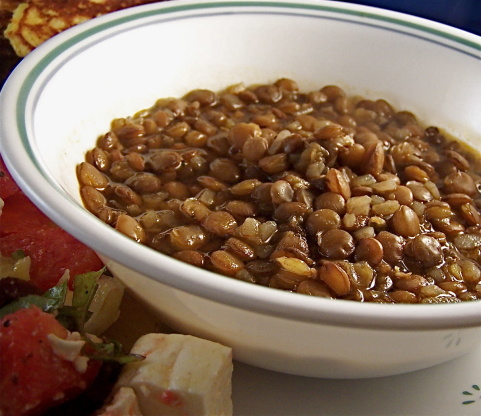 This is my mum's way for fakes. Its a very common soup, perfect for the cold days, tasty and very healthy! It can be made without any tomato but then oregano must be added. I always make it red (with tomato).

This smells so good cooking but I found it just a bit plain . Great base recipe that I will have fun playing with. I think next time I will use a veg broth . Made for PAC 2009
Boil one glass of water and add the lentils. Cook for 2-3 minutes and then drain the lentils. That way the soup is lighter!
Put in the pot enough warm water and add the lentils. Put the onion, the bay leaves, the garlic and the tomato paste. Boil in high heat with the lid on for 10 minutes. Add the oil, salt and pepper to taste. Keep boiling for 30 minutes.