loof751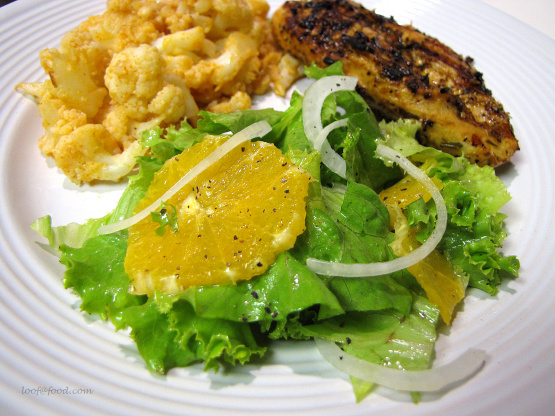 From "The Art of Spanish Cooking" by Betty Wason. For variation, you may add pimiento-stuffed olives, strips of bright pimiento or black olives.

I used loose leaf lettuce and a Walla Walla onion from our CSA box. Depending on the season you can sub different orange varieties: cara-cara, Valencia or blood orange, for ex. I used a little bit of red onion, too for color and added some Manzanilla pimento-stuffed olives (always have those on hand.) Good and pretty and super easy! Thanks! Made for Veg Tag/August.
Marinate oranges and onion in olive oil, vinegar, salt and pepper for 15 minutes to one hour.
Add to salad greens and toss.