ChefDLH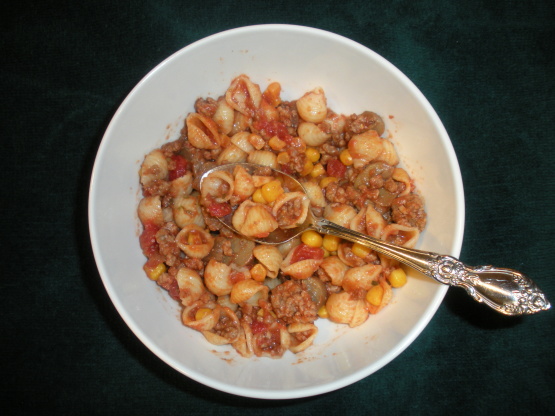 As some of you know I have been attempting to record my mother's recipes for all eternity. This has been one of my all time comfort meals all my life. Some of the ingredients would change depending on how much $$ we had at the time. Feel free to add any seasoning you might like.

Delish! We call this "noodle mix" in our house. The only changes I make: Rather than use a separate pot to cook the noodles, I just add them with all the tomato stuff, and then add 3 cups of water. The noodles cook through, there is less to clean, and everyone is happy. In addition, since my family likes sweet and sour foods, I sometimes add some sugar, or today I used a few tbl of pure maple syrup, and it was delicious. Thanks for putting it up for everyone.
Prepare elbow macaroni according to directions on package till al dente.
Save a little of the pasta water in case you need it later to loosen the sauce.
Brown meat in a large skillet, drain the fat and add the onion and bell pepper half way through cooking.
Drain any ramaining fat when onion and pepper is done and add garlic, stir it about.
Add the meat mixture to the cooked macaroni, add the canned tomatoes, corn and sauce.
Mix all this together and add seasoning to taste.
You may need to add some of the pasta water to loosen the sauce if it is too dry.
This is really good the next day too.