Elegant White Spaghetti and Meatballs
Lorac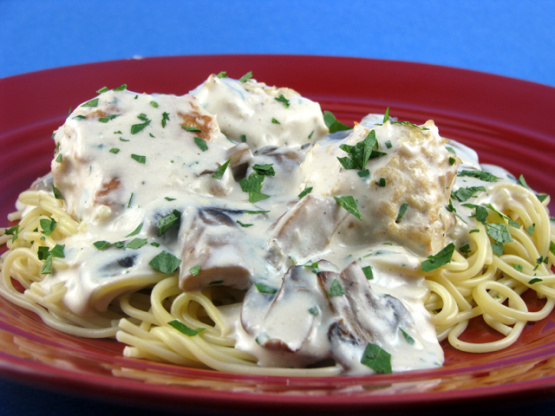 This creamy recipe has chicken meatballs. The original asks you to grind your own chicken breasts in a food processor, but I've posted it using pre-ground meat. Don't be shy with the garlic and spices!
I saw this in the Cooking Light section of Southern Living years ago and it is a keeper. I make it several times a year and never get tired of it. It tastes much richer than it is. The only change I make is using reduced fat cream cheese and whole wheat noodles. I've also subbed breadcrumbs for cracker crumbs with no change in taste. It freezes ok, too. I usually package up a few for lunch with noodles and sauce and they reheat well, although I do try to eat them within a couple of weeks.
Add minced garlic, beaten egg and crushed saltines to ground chicken.
Preheat oven to 375°F.
Form into 1 inch balls and bake in single layer for about 13 minutes.
Meanwhile saute mushrooms in oil until tender.
Add minced garlic, nutmeg for a minute or two more.
Add flour and wine, loosening all particles.
Add chicken broth, bring to a boil and simmer for 15 minutes.
Stir in cream cheese and parsley. Salt and pepper to taste, add meatballs and simmer about 10 minutes more.
Serve atop hot cooked pasta with a green side salad!