ImPat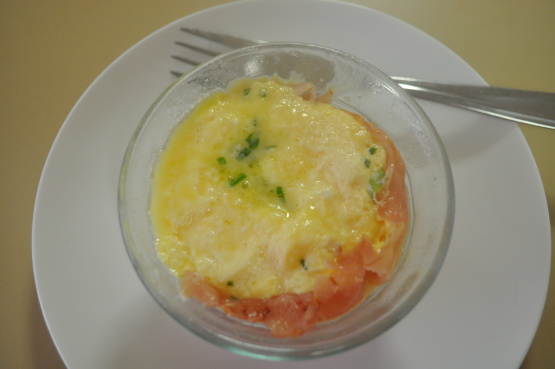 Another tasty recipe from Alberta Egg Producers. You can also use a microwave-proof wide mug if you don't have a ramekin or custard cup. You can cook more than one at a time, just make sure that they have cooked through; they should need more time the more you are cooking. Enjoy!

I can see this dish making a fabulous breakfast, brunch, lunch or dinner! In order to use up our ham, I put shaved pieces in the ramekin, rather than a slice, and I think for ease in eating right out of the ramekin with just a fork, I will continue to do that in future. I used just one extra large egg with only one tablespoon of fat free sour cream and omitted the parsley. My husband and I are so taken with your recipe#344386 Nif, that we drizzled it on the cooked ham and eggs, and that took the whole dish over the top.
Spray a 10 oz microwaveable ramekin or custard cup with vegetable spray. Place ham slice in ramekin. Sprinkle with onion and 1 tbsp shredded cheese.
In a small bowl, beat together eggs, yogurt and pepper until blended; pour into ham cup in ramekin. Sprinkle with parsley and remaining cheese. Cover loosely with plastic wrap, turning it back slightly to vent. Microwave on medium-high (70%) for 2-1/2 minutes to 3 minutes or until cooked as desired.
Remove from microwave but do not remove plastic wrap; let stand for 1 minute. Remove plastic wrap and serve.