Microwave Chocolate Mug Brownie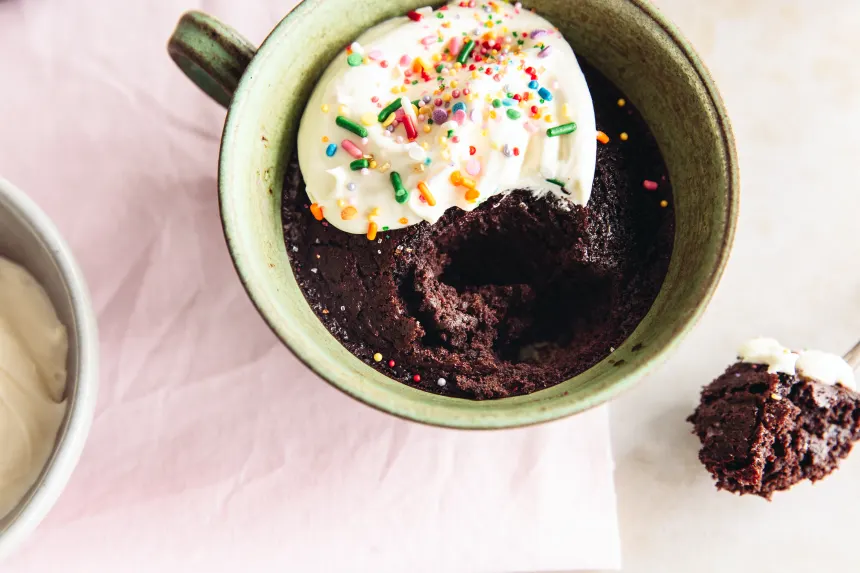 photo by Izy Hossack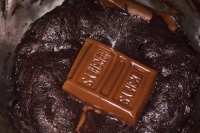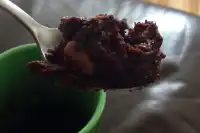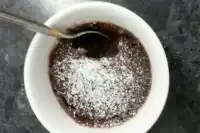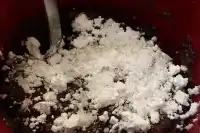 Ready In:

6mins

Ingredients:

8

Serves:

1
directions
In a coffee mug, add water/milk, melted butter/oil, a dash of salt and vanilla extract. Whisk well.
Add cocoa powder, whisk well. Add sugar, whisk well. Add flour, whisk well.
Microwave for 60 seconds. Center should be slightly molten. Careful not to overcook.
Enjoy with a spoon. Careful, brownie will be hot.
Questions & Replies

Reviews
I'm leaving this review for the people who, like me, have searched through multiple brownie-in-a-mug recipes that ended up tasting like total dirt to find a good one. I have tried a handful of recipes that had good reviews and when they end up tasting like crap even though I followed the directions exactly, I wonder where I went wrong. This is FINALLY a decent recipe that actually tastes like a brownie and doesn't end up dry and bitter (but that can happen to any recipe if you microwave it too long, be wary). I think one of the secrets is to use melted butter instead of oil. It is essential to the way it cooks but doesn't give it an oily taste. If you don't like it to be too sweet, cut the sugar by a tablespoon or two. I also substituted milk for water, which I suggest doing in any cake/pancake/muffin recipe. I cooked it in a 1500 watt microwave for 60 seconds and it was just a bit too liquidy/molten for me so I gave it another 15 seconds and it was great. My end conclusion is that you're honestly just not going to be able to make a perfect tasting brownie like you would by baking a box mix in an oven for an hour by just throwing 5 or 6 ingredients in a mug and microwaving it for a minute, but that when you are craving a chocolate fix and want a decent brownie this recipe will definitely satisfy you! I really hope my review helps someone!

 

A wonderful recipe! Make it a peanut butter chocolate brownie by replacing the butter with 1-1/2 Tbsp creamy peanut butter and increase water to 2-1/2 Tbsp. I also replace the water with milk and reduce sugar by half. Mix the peanut butter with the water (milk) until smooth before adding the rest. Comes out yummy and there is still about an inch and a half left in the 12 oz. mug for a bit of ice cream!

 

I needed something quick & easy that didn't require the oven on this hot summer Friday night. Just wanted a little end-of-the-work-week treat. This fit the bill! It would have been great with ice cream but I also had limited ingredients so, again, this worked nicely. I got a little confused because the recipe ingredients call for melted butter but there is no mention of it in the recipe...then I noticed the directions called for "oil" ... which translated to melted butter, although it's not the term I would have used. Thanks for posting!

 
Tweaks
This is my go to chocolate mug brownie recipe! I have made this so many times. I have done some tweaks and trial and error and I finally have it down. I like how the original recipe doesn't have us dirtying a bunch of utensils! I use just the tablespoon and the 1/4 tsp, that it. Here are my to-taste tweaks: 2 tbsp of cocoa, a little less than 2 tbsp of sugar -save on cals lol, 4 tbsp flour, Dash Salt, A small dash of instant coffee - gives it complexity!, a generous sprinkling of cinnamon, 1/4 tsp baking powder - probably not technically a brownie at this point, 2 tbsp oil, 1/4 tsp vanilla extract, 4 tbsp almond milk, then I microwave for 70 seconds - Comes out perfect every time.

 

I call it a 3 TBSP Mug Brownie. 3 tablespoons of all the above listed ingredients, except a dash of salt and vanilla extract. I also use milk instead of water. And using 3 tablespoons for everything gives you a very slightly larger batch so you need the microwave it all 90 seconds for a 1250w microwave.