Eggplant (Aubergine) and Ricotta Rolls
Tea Girl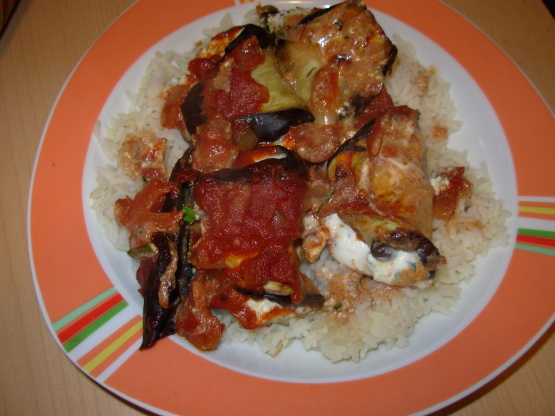 Delicious and easy vegetarian recipe. I char-grill fresh sliced eggplant using my George Foreman grill, but you can buy it ready made from the deli. I also find it easier sometimes to omit the thyme leaves and lemon rind and use instead a bottled dried mix of lemon, basil and thyme from the supermarket.

this was really good. i think the only thing i'd change is to leave out the balsamic. I'll be perfectly honest, mine ended up as an eggplant ziti - everything mixed together, since my eggplants were very small. But, i would definitely make this again. Thanks
Preheat oven to 200 degrees celcius and lightly grease a square baking dish.
Heat oil in a fry pan over medium heat.
Add onion and garlic, cook for about 3 minutes.
Add tomatoes, tomato paste, balsamic vinegar and salt and pepper to taste.
Bring to the boil then reduce heat and simmer for about 20 minutes or until sauce is thick.
Combine, ricotta, milk, chives, thyme and lemon rind (add salt and pepper if required).
Spread ricotta mixture evenly over slices of eggplant, then roll up lengthways.
Spoon sauce into baking dish and top with eggplant rolls.
Cover and bake for approximately 25 minutes or until sauce is bubbling.