Bobtail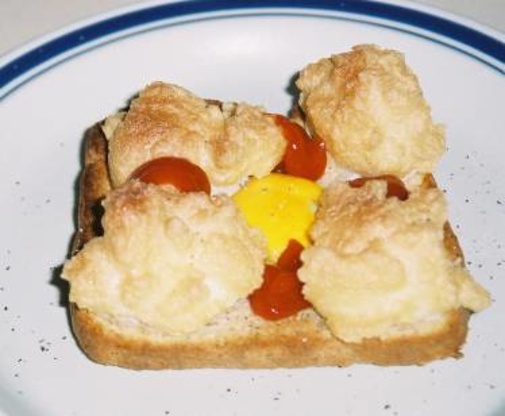 A very simple recipe for those who are new with using the oven as well as for those who love eggs. A fantastic snack with an even more fantastic name, the next time you are off for a picnic and want to try something new, here it is -Egg on the bird's nest!
Pre-heat oven for 2 minutes (180C).
Beat the egg whites of the 2 eggs, one at a time, till stiff.
Now take the 2 bread slices and using a spoon, apply the egg whites in the 4 corners of each slice.
Put the entire egg yolk (without beating it) in the center of each slice.
Place on a wire rack.
Bake for 5 minutes till golden brown on either side.
Remove from oven, place on a plate.
Sprinkle salt and pepper to taste.
Decorate with Tomato Ketchup on each slice.
Enjoy it as picnic food or as a morning or evening snack!