Egg Noodles With Crispy Croutons
Lainey39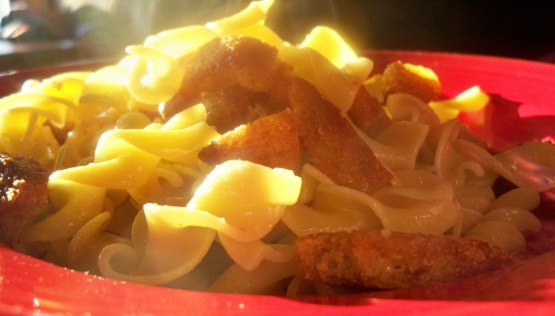 This is the way my family likes noodles served. It is easy and quick. Start the croutons when you put the water on to boil and they should be ready when the noodles are done. Of course, you can use extra butter but I try to restrain myself. Once the croutons are mixed in with the noodles everything does become buttery.
12

ounces egg noodles (could be a bit more, just add more butter)
1⁄2 cup unsalted butter or 1⁄2 cup salted butter

2

slices white bread (day old is good, I have also used multigrain and it is good too)

1

pinch salt (to taste)
1⁄4 teaspoon pepper (to taste)
Cook noodles according to package directions.
When you put the water on to boil, place the butter in a small frying pan over medium heat.
Tear the bread into small pieces for the croutons.
When the butter is melted and sizzling (don't let it brown) add the pieces of bread.
Watch the bread carefully and stir frequently so that it doesn't burn but will get crispy.
Add the salt and pepper to the croutons.
When the noodles are cooked, drain and place in your serving bowl.
Add the croutons; stir to distribute well.
Serve and enjoy!