Eat-With-Your-Hands Sparerib Marinade (With Onion Salad Idea)
teresas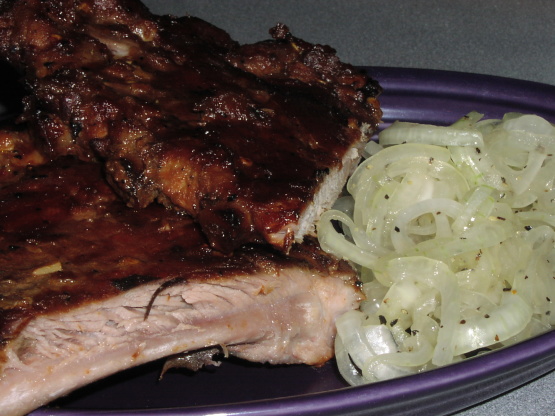 This is not for knives and forks! Rather put out finger bowls and paper napkins, and do what came naturally for those ancient cave people who discovered grilling. Please do not substitute the apricot jam: it has a flavour uniquely suited to this kind of marinade. Make this the last grill of summer, and I'd suggest your favourite chilled unwooded chardonnay with it! ;)This recipe comes from a highly popular Afrikaans travel magazine called "Weg" -- which more or less means, "Away", as in: "Away we go!"

This was really good...but not our favorite...it's very tasty...I made as posted with the exception of using walla walla onions in place of the red onion...this was easy to throw together...it was tasty...but hubby and I both thought it lacked the WOW factor...made for Fall PAC 2012
Prepare, measure out, and mix all the ingredients for the marinade. Whisk well.
The recipe mentions "2 spareribs" but you'll know how much you need, or whether you want to cut it slightly smaller than 2 pieces, which are quite large.
Pour the marinade over the ribs, and brush it on all over. (Use a glass or other non-reactive container).
Loosely cover and leave for a few hours. Overnight is best.
Grill over hot coals until it threatens to catch. Turn once, and grill for about another 10 minutes while you brush on the marinade every now and then.
Leave the grilled ribs under foil (in a warm spot) for a few minutes, cut up into pieces easily taken in hand (!), and present on a heated plate. Whether you need more salt is a question of personal taste.
Surprisingly, this salad idea goes well with it: thinly sliced red onions which were mixed with a little sugar and a pinch of salt, and sprinkled with lemon juice. Do ahead so sugar can melt. (Just use your own intuition: no recipe exists!).