loof751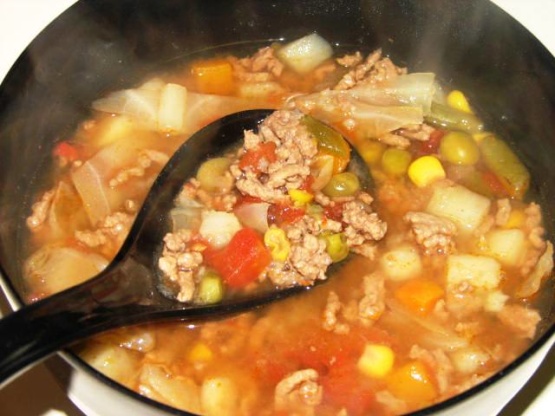 This is a great vegetable soup and so easy to make. We love it. A recipe from Nimrod Arkansas.

WOW ~Nimz~, this was really easy and VERY delicious. DD even ate it and she hardly ever eats anything with tomatoes or okra in it. DH loved it, and so did I. It smelled especially good cooking. I must admit, I did it all in one pot as I was not feeling up to par, and wanted to make it even easier than it was :) I also added 1/2 teaspoon of cumin, but other than that I followed the recipe as written. Thanks ~Nimz~ for the great recipe. Made for ~Nimz~ win for Football Pool 2008, Week #8.
Brown beef, onion, pepper and celery until beef is brown.
Drain off grease.
Season to taste with salt, pepper and chili powder.
Cook potatoes and cabbage separately.
When done, pour with beef and vegetables and simmer 10-15 minutes.