gailanng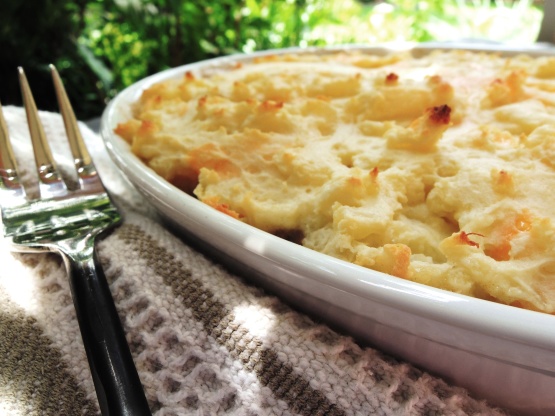 My wife had lunch over at a friend's house the other day and she served this recipe. My wife is still raving about it. I guess now I have to make it. Supposedly it came from a magazine.

Trying again - wrote a review yesterday that seems to have disappeared into thin air. So, anyway...I increased this recipe to serve 9 since one never know how large a serving actually is. Made gravy using drippings from the cooked meat. For the veggies, I chopped and cooked 1 cup of onion and 1 cup of carrots. Added 1 cup of canned and drained (reserved liquid for gravy) mushrooms, and not quite a cup of defrosted peas. Put in an 11x13 pan. We had never had Shepherd's Pie before but certainly will again. Everyone love it! Thanks, Jim!
Preheat over to 375°F Brown meat in skillet and drain.
Mix potatoes, cream cheese, 1/2 cup of the shredded cheese and the garlic until well blended.
Stir vegetables and gravy into meat.
Spoon into 9-inch square baking dish.
Cover with potato mixture. Don't worry about it being perfectly even, the more rustic it looks, the better.
Sprinkle with remain 1/2 cup shredded cheese. Bake for 20 minutes or until heated through.