Brenda.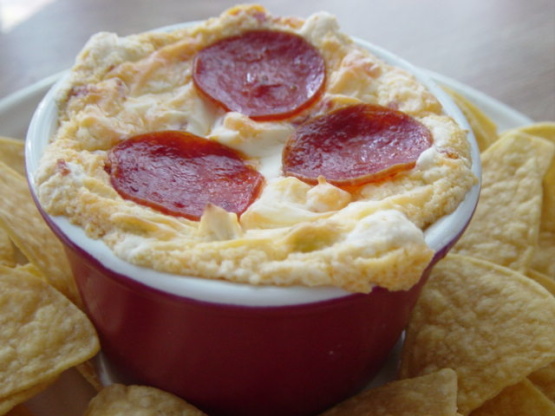 I got this recipe from a co-worker who always brought it to meetings. It is so easy and addicting! I usually make it with fat free sour cream, low fat cream cheese, and turkey pepperoni, and most people like it better than the full fat version. Note: the amount of pepperoni used is an estimate--use more or less depending on personal preference

i made this tonight & thought it was good but nothing outstanding. it's a good, solid dip. hot, gooey, but a little bland. next time i'll add a few squirts of pizza sauce. i'll use it again, but tweak it a bit.
16

ounces cream cheese, softened

8

ounces sour cream

3

ounces pepperoni, chopped (leave a few whole for garnishing)

1

(4 ounce) jar green chilies (you can buy them already diced)
Blend all four ingredients together in a mixing bowl.
Spread mixture in a pie pan and garnish top with a few whole slices of pepperoni.
Bake at 350 degrees for about 45 minutes or until hot.
Serve warm with tortilla chips.