amy25414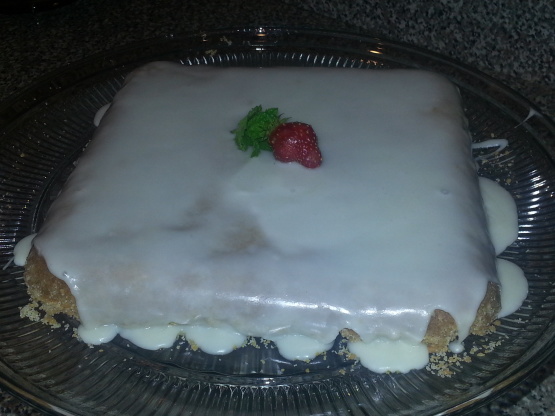 Nice and lemony, this cake tastes wonderful! Original recipe from the Land O'Lakes website.

my husband and i tend to lean more towards chocolate brownies as a guilty snack but i tried these and they were absolutely fabulous! the only thing i changed a bit was adding extra lemon juice to the glaze. unbelievably easy recipe.
Heat oven to 350º. Combine flour, sugar, baking powder, and salt in a lightly greased 8x8 square baking pan. Make 2 indentations in flour mixture. Set aside.
Combine egg and lemon peel in small bowl with fork; pour into 1 indentation. Pour 1.4 cup melted butter in other indentation. Pour milk over all; mix well. (Some lumps will remain).
Bake 30 to 35 minutes or until toothpick inserted in center comes out clean. Cool completely.
Combine powdered sugar, 1 tablespoon melted butter and enough lemon juice for desired glazing consistency in small bowl. Spread glaze over cooled cake.