Prep 20 mins
Cook 30 mins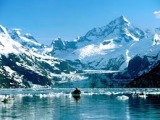 This is a Columbian recipe from Ingrid Hoffmann.These saucy beans are hearty and homey. If you don't feel like chopping the veggies, just pulse the onion, scalliions, carrots and garlic in a food processor until they are finely chopped, then add the tomatoes and pulse two or three times until chopped. Also, if you opt to use canned beans, simply add the bacon and veggies after they have been sauteed. *Time does not include overnight soaking and bean cooking*
1 lb dried red kidney beans, picked over and rinsed or 2 (15 ounce) cans red kidney beans, rinsed and drained
1 teaspoon baking soda, divided (only if using the dried beans)
4 bacon, strips raw, chopped
1 tablespoon vegetable oil
1 large yellow onion, finely chopped
8 scallions, white and light green parts only, finely chopped
4 medium tomatoes, peeled, cored and chopped
3 large carrots, grated
1 garlic clove, finely minced
1 bay leaf
1⁄2 teaspoon Worcestershire sauce
1⁄2 teaspoon ground cumin
1⁄2 teaspoon salt
Directions
If using the dried beans, soak them in cold water overnight with 1/2 t of baking soda. The following day, drain the beans and place them in a larg pot with the bacon, another 1/2 t of baking soda and 6 cups of water. Bring to a boil and reduce the heat to a simmer, and cook the beans until they are soft - about 2 hours. If the water level drops too low before the beans are tender, add another cup of water (or more as needed). If using canned beans, just warm them in a large pot with 3 1/2 C of water. Drain.
Heat the oil in a large skillet over medium-high heat for 1 minute. Add the remaining ingredients and cook, stirring often, until the veggies are soft and fragrant - about 5-7 minutes.
Add the veggie mixture to the pot with the beans and cook just long enough to bring the flavors together, about 10 minutes. Remove the bay leaf before serving.
Reviews
Most Helpful
I used canned beans to make things a little easier. Great flavour, with nothing really dominating - everything just melded together into bean-iness. Will definitely make again.

Yum. I used canned beans, nexttime I'll make this dish from scratch. Great flavor. Made for photo tag.