Easy Food Processor Salsa II
CandyTX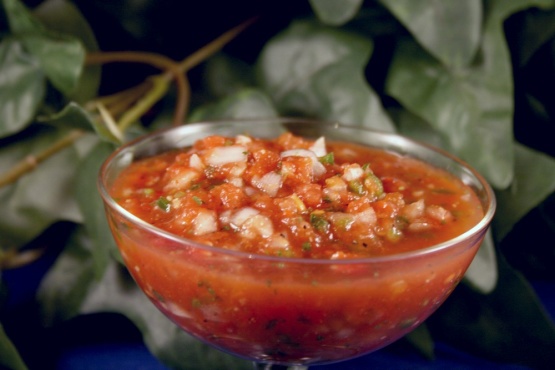 A tweak on one of my top rated recipes. A thick salsa with bold flavors that's sure to please.

This is so good! I made it twice within a month. Second time I "pulsed" it longer to process into smaller chunks. I would warn those who are sensitive to spicy foods that this is quite warm - I love spicy so I had no problem. I store it in 2 1-quart sized mason jars - true to the recipe when mentioned it makes 2 quarts. Super easy to make! This is now my go-to fresh salsa recipe!!
Cut stem end off of Roma Tomatoes and make an "X" in the skin on the other end and place in a microwave safe bowl, add a couple tablespoons of water and cover with plastic wrap. Microwave on high about 2 minutes, until tomatoes are softened and skins come off easily. Discard skins and set aside.
Put garlic, jalepeno, spices, Maggi Seasoning and lime juice in the work bowl of a 6 cup food processor with the chopping blade, and pulse a couple times until the garlic and jalepeno are minced.
Add canned tomatoes and pulse about 3 times.
Add Roma tomatoes, onion, and cilantro and pulse until the onion is at desirable size- 1/4 inch or so.