Marlene.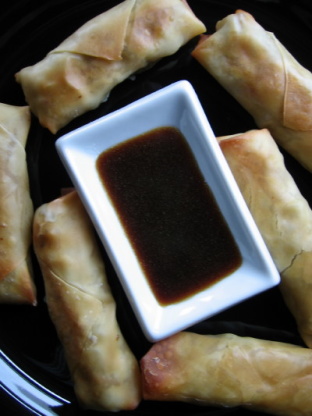 I got this recipe from a man at work. His wife makes them and is evidently tired of being the one to make them all the time! LOL Easy , and oh so tasty!! This recipe is EASILY cut in half!! I oiled a pan and baked mine , but these can be deep fried also if that's your preference! Cooking time reflects the way I baked them.

My daughter and I made these for tonights supper. We only added 1-(16 oz.) pkg of cole slaw mix, which made these a bit more meaty, but good. But next time I will be sure to use 2-(16 oz.) pkgs. My daughter says she'd also like these more if green bell peppers were added, as this is what we always add to our egg roll recipe. Baking these in the oven was a nice change, instead of deep frying them. After the beef and pork were cooked, my daughter drained off all the excess grease, and we just cooked the cole slaw mix (w/the meat) for 10 minutes (not 20 minutes as suggested). Trust me, the 10 minutes was enough for the slaw mix to cook. We cooked half the egg rolls in a Large Pampered Chef Baking Pan, which my daughter just brushed one side of the egg rolls with a bit of canola oil, and then we added the other egg rolls to a Teflon coated baking sheet, which daughter lightly brushed the pan w/some of the canola oil, then lightly brushed the tops with a bit of the oil. For this recipe, we used Spring Roll Wrappers, as this is what we had in the freezer. By the way, when using Spring Rolls, we noticed the egg rolls do stay 'hot' a lot longer than when we use the regular egg roll wrappers. In all, these were pretty good, but my daughter said she didn't care for the taste of the Chinese Five Spice Powder in this recipe, and my husband said he prefers egg rolls that has more of a ginger taste to them. My husband and daughter like egg rolls that are a bit more spicy. Guess it's just a preference. We'll definitely be making these again in the near future, and I may just add abit of freshly grated ginger, or ground ginger to the recipe. By the way I forgot to say, we ended up with 21 egg rolls, since we only added one bag of the slaw mix, and because we used Spring Roll Wrappers instead of the egg roll wrappers. The Spring Roll Wrappers are a alot bigger in size. Thank you Marlene for sharing your recipe with us. These were quick, easy, and good!!
Brown ground beef and pork. Don't drain!
Mix in the salt and pepper , garlic powder , onion, Chinese five spice and coleslaw mix.
Cook over low heat until cabbage is tender. (mine took approximately 20 minutes on low heat).
Drain and cool in a strainer.
Fill egg rolls, fold and seal.(directions come with the egg roll wrappers).
Fry in vegetable oil until golden brown. I can't tell you how long this particular method takes. I spread vegetable oil on my cookie sheets , rolled the egg rolls in it , and baked in a 375° oven for 10 minutes , turned them over , baked an additional 10 minutes.
Enjoy!