alligirl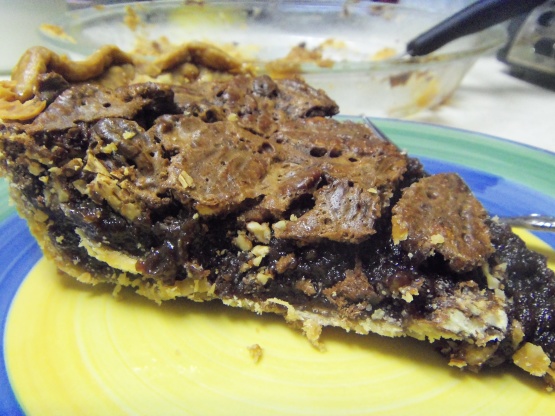 Another oldie that I had forgotten about and am posting here for safe-keeping. It makes a nice change of pace from regular pecan pie.

Fabulous tasting pie! I did have to bake mine for 15-20 more than mentioned in the recipe, but it was in a glass dish, so that may have been the difference. I used a refrigerated pie crust, following all other directions. I can't decide if it's a chess pie with pecans or a pecan pie with chocolate. Great dilemma to have...LOL Thanks for sharing a great recipe, JackieOhNo!
Preheat oven to 350 degrees.
Melt margarine with chocolate squares.
In a large bowl, stir together eggs, corn syrup, sugar, chocolate mixture, and vanilla until well blended. Stir in pecans. Pour into pie shell.
Bake for 50-55 minutes or until knife inserted halfway between center and edges comes out clean. Cool and serve.