Easy Chicken Enchilada Casserole
MsSally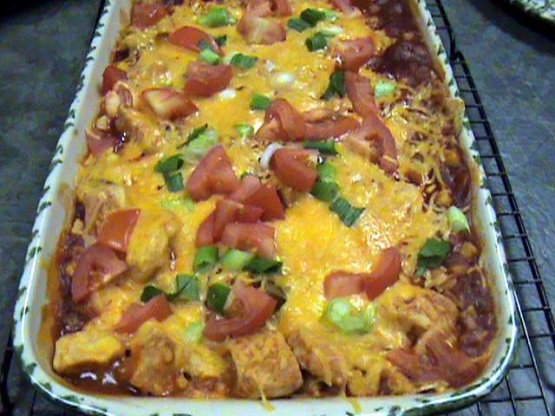 This is an easy and delicious casserole. You can use a rotisserie chicken from the grocery store. Also, if you like, you could substitute cut-up cooked pork in place of the chicken. If your family loves beans, try adding 1 can of spicy chili beans, undrained, to the chicken mixture for extra flavor and fiber. Recipe is from Pillsbury.

This is a can't miss dish! I changed it up a lot, but that's the beauty of it. I used blue corn chips, left out the sugar, used half the enchilada sauce, added 4oz cream cheese, added an entire bunch chopped cilantro and topped with diced canned tomato with chilies. Just enough heat. We ate it all week with sliced avocado & sour cream. Fantastic. Thanks for the recipe!
Heat oven to 350 degrees F.
In medium bowl, mix chicken, sugar, salsa, enchilada sauce and corn.
Place tortilla chips in an ungreased 8-inch square glass baking dish.
Top with chicken mixture.
Sprinkle with onions, tomato and cheese.
Bake 35-45 minutes or until hot and bubbly.
If desired, arrange additional tortilla chips around edge of dish.