Easy Butterfinger Trifle Dessert
CoffeeB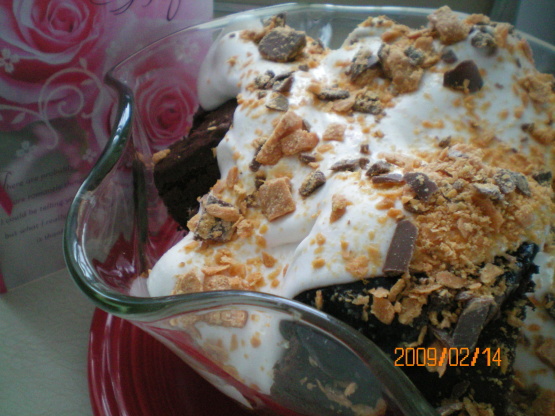 This is a wonderful easy dessert, to save time prepare your cake a day ahead.

I love trifles to make for special occasions. This one did not disappoint as it's so deliciously moist and yummy. I actually took this recipe and divided into two dessert bowls. One for DH for Valentines and another for DS and girlfriend. I decided to up the pudding amount and so folded into the CoolWhip a pkg. of sugarfree instant white chocolate that I made along with the devils food instant chocolate in order to get just a bit more pudding mixture for both bowls. Perfect. Thanks for a great recipe and one I'll be making again. Made for 123Hits.~
Slice the baked cake into med-large size cubes, then place half of the cubes in the bottom of a large glass serving bowl/trifle bowl.
Spread half the prepared chocolate pudding on top, then top the pudding with half of the Cool Whip, then half of the crushed candy.
Repeat the layers ending with crushed candy on the top.
Refrigerate the trifle.
Delicious!